The gullibility of the scientifically challenged media and buying public never ceases to amaze. Spurred perhaps by sharply higher gasoline prices, backyard inventors and shady promoters are pushing the latest wonder technology, "HHO gas," otherwise known as water gas, Brown's gas or Klein's gas.
For a tidy investment of a few hundred dollars, one can adapt a car to run on HHO, or for a few thousand, one can buy a device to produce HHO at home for transportation or for welding. Cars apparently can run for miles on mere puffs of HHO, and torches can burn holes in seconds through most metals.
I would encourage anyone buying such devices to first watch videos of the Graf Hindenburg accident in 1937 or the Shuttle Challenger accident in 1986, to get an idea of the Promethean power of HHO gas.
Wait, 1937? Isn't HHO supposed to be a new technology? you ask. Nope. In fact, the principles behind the production of HHO have been known and used for close to 200 years. If you were lucky, you might have even made some in middle school science class.
If you run electric current through water, you break water down into its constituent parts, hydrogen and oxygen, both gases at standard temperature (20 C) and pressure (1 atmosphere). Very little current is required; a 6-volt lantern battery does the trick nicely, although quite slowly.
The science class experiment generally involves upending two test tubes over the positive and negative electrodes submerged in the water. Hydrogen collects over one electrode, and oxygen over the other one. (Hydrogen ions are positively charged; oxygen ions negatively.) Since there are twice as many H atoms in water as O atoms, the volume of the hydrogen (H2) gas is twice that of the oxygen (O2) gas.
Frequently the experiment also involves pulling the H2 test tube out of the water and placing a burning wooden splint near its mouth to ignite the H2, producing a characteristic whooping sound and some water vapor that condenses on the glass tube.
Placing a glowing wooden splint into the O2 tube will result in the splint bursting into flame, as the oxygen-rich environment accelerates the combustion process.
As well as being less dense than air, hydrogen is a highly flammable gas. H2 mixed in air is a "weaker" form of HHO gas, since air is a mixture of oxygen, nitrogen and carbon dioxide. A spark or a flame will immediately ignite any H2 around by providing just enough energy for the H2 and O2 present to recombine into water.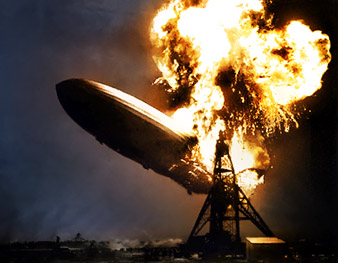 Test tube amounts of H2 produce whooping noises. An airship the size of the Hindenburg (at right) can produce a much more dramatic effect, as it did on the fateful day in 1937 when the airship burst into flame as it came in for a landing.
Mixing pure H2 and pure O2 increases both the temperature and the speed of the reaction, which is the key to HHO's success as a welding gas, automobile fuel, and rocket propellant.
The space shuttles use "HHO" in their main engines. At launch, each shuttle is attached to a huge external fuel tank containing cryogenic vessels filled with liquid H2 and liquid O2. Igniting the H2/O2 mix produces a lot of thrust for the money, and the byproduct is just water.
The downside is the explosive danger of a pure H2/O2 mix, as the Challenger accident so tragically demonstrated. Flames from a leaky solid-rocket booster on that day burned a hole through the external fuel tank, which then exploded just minutes after launch (at left), killing the seven astronauts on board.
So, I would I think twice about running around town with a tank of HHO in the trunk of my car, or producing HHO in my basement for storage. Gasoline is safe and stable in comparison.
HHO gas is not the cure-all that its promoters say it is. Sure, it is a clean-burning fuel. It can be an effective welding gas. And cars can in fact burn HHO either mixed with gasoline vapor or by itself. But HHO gas will not end our dependence on foreign oil or substantially reduce pollution, no matter what anyone says.
You need electricity to produce HHO. To produce large quantities of HHO is a reasonable time, say a few hours, you need a lot of current, which does not come cheap. Your power company supplies current to your home and office by burning, for most communities, fossil fuels like coal or oil. If you're drawing a lot current to fill your bomb-like container of HHO gas, the power company has to burn more oil or coal to supply the electricity. You can't get something from nothing.
Now, if the power company used hydroelectric generators or a nuclear power plant to provide the current, you might be able to justify pulling all those amperes to electrolyze your water into HHO. You are still gong to have to pay the light bill, though, so the economics of producing HHO at home might not be any better than just filling up at the local gas station for $3 a gallon.
In short, dear reader, caveat emptor. HHO gas is a scam. It is not a miracle technology or a cure for our gasoline dependence. At best, it is a deception, a way for clever promoters to make money, and endanger the unwary consumer.
Possibly Related Posts: